This Saturday Kobe will enter the Hall of Fame. I think about Kobe often. I was Kobe's teammate on the Lakers for three seasons from 2000 through 2003, mostly as a role player. Then I came back and coached him for his final two seasons from 2013 until his retirement. I wanted to share some memories of Kobe as part of my own process of remembering him and thinking back on time shared together. I miss Kobe and I still mourn the loss of Kobe, Gianna, and every individual lost in the tragic helicopter accident.
First Time meeting Kobe: It was late August of 2000 and I was a rookie. Kobe walked into the training room one morning with his personal strength coach and I met him for the first time. It must have been about 9 am or 10 am in the morning. I thought it would be cool to get some shots up with him and I said, "Hey, I just finished my lift, want to get some shots up together?" He told me he had worked out that morning previously at a different facility. He said he "was up at 5 AM that morning and had already made 2,000 shots." In that instance I immediately saw the work ethic. This man cared deeply about hard work and being the very best he could be. Anyone in basketball knows that to make 2,000 shots you have to be working hard and fast. Some players don't make 2,000 shots in a week. Kobe did it in one morning workout.
Love of Family: Right at the start of 2003, we beat a strong Sacramento Kings team on the road. Both Kobe and Shaq played extremely well and the mood was great as we boarded the plane to fly back to Los Angeles. As Kobe walked past me in the aisle of the plane going to his seat, he tapped me and showed me a photo of his newborn baby girl Natalia. He was beaming. It was amazing to see Kobe so focused on beating the Kings an hour earlier, and then off the court he was so focused on his family. The main thing on his mind that night was his newborn baby daughter Natalia. Vanessa was and always will be a class act. Even before Kobe and Vanessa married, Kobe spoke with so much respect about Vanessa and the many amazing qualities of who she is as a person. Over the years I always appreciated seeing and speaking with the two as a couple either before or after games. Vanessa was always classy, always kind and always present as Kobe's partner.
Memphis Dinner: Back in the early 2000's we played a game on the road in Memphis and one of Kobe's high school friends named TJ lived in Memphis. After the game Kobe invited me to join him and his buddy for some BBQ at a typical Memphis style restaurant. It was a happening spot, and I was a young player (maybe a rookie) and he was already an all-star. At the time literally we just shot the breeze about basketball and the game and whatever else came up. It was just one of those nights you remember. We were both early 20's at the time. I can't believe Kobe is not with us anymore. Sometimes I just wish I could get into a time machine and go back to that enjoyable dinner that night in Memphis with Kobe and TJ. In that moment, we literally just talked about the game and whatever else was on our minds. I will never forget it.
Christmas Exchange: Phil Jackson did a Christmas gift exchange each year where we drew names of teammates and everyone gave each other a gift. Phil set the price limit at $100. When I drew Kobe's name, I felt excited and decided to get him a poetry book "101 Famous Poems" as well as a nice box of chocolates for him and Vanessa. We played a televised game on December 25th every year and that Christmas morning before the game I gave my gift to Kobe, and he said "Thanks….I drew your name too……my personal tailor is coming to the facility next week, and I'm giving you two custom made Italian suits." I felt excited because Kobe always wore some pretty sweet Italian suits. The next week, Kobe's tailor came for measurements, and a few weeks after that I wore two of the best suits I've ever seen. Kobe spent thousands for that Christmas present. My teammates joked with me that the suits were a little tight, but I wore those suits for many years until later in my career when a few extra pounds appeared. I found this in my journal about the experience: "Today Kobe's suit maker measured me for two brand new custom suits. What a generous person. I gave him a poem book and chocolate for the gift exchange and he gives me $5,000 worth of great clothes. What a good man."
Dismantling of the Spurs: In the playoffs in 2001 we played the San Antonio Spurs on the road to begin the series. The Spurs played with physicality, shot the three well, and played great defense. The "twin towers" of Tim Duncan and David Robinson played tough inside and patrolled the paint. Along with Shaquille playing very well, Kobe just took control and absolutely went off in game 1 going for 40 points. Kobe played great again in game 2 and we won that game also. During the post-game interviews after those games, Shaq and Kobe began giving each other some serious public respect. Shaq said "Kobe was the best player on the planet" and Kobe returned the compliment with something along the lines of "Shaq is the most dominant player in the universe." It was cool to see and it was impressive how these two all-time greats played so well together and started building a public rapport of support for one another. It was nice to see the mutual respect between two all-time greats.
Going to Kobe HS jersey retirement: On an East Coast trip in January 2002 when we played the Philadelphia 76ers, we landed in Philly on a Saturday and right away, Shaq rounded up a bunch of the teammates and said, "Kobe's getting his jersey retired tonight at his high school, we're going." It was a huge honor for Kobe and for all the people who were a big part of Kobe's life back at Lower Merion High School. It was cool to be there at Kobe's old high school and to see this part of Kobe's life from a different angle. Again, I loved seeing how much Shaq supported Kobe and it was also great to see Kobe receive this honor. Even as great as Kobe became, much of his foundational growth took place there at Lower Merion High School where he put work in as part of a sturdy foundation.
Practicing against Kobe: One time in practice we were playing full court 5 on 5, and somehow I had to switch onto Kobe as he came at our team in a slow-transition situation. As Kobe dribbled the ball at me, I remember getting down low in a stance because I knew I was going to have to really move my feet to have any sort of chance whatsoever with Kobe. Kobe hit me with his inside out crossover dribble. My weight was going one way and my feet were going the other. I remember exactly where I was on that practice court too. Then my feet got crossed up and bam! Down I went. Man, I tried to get up quickly, but it was too late. Phil Jackson blew the whistle and stopped practice after the play so the play could sink in with the whole team. I was glad it was a closed practice that day! I was giving it everything I had, but not even close to being able to do anything with a hall of fame player. All I could do was laugh with my teammates and have respect for Kobe's immense talent. I continue to realize how much of a privilege it was to play on the same team as Kobe.
Jan 14, 2002 when Kobe went for 56 points: The week before in a road game against the Chicago Bulls, an altercation broke out. Basically, the Chicago Bulls were just hacking Shaq too much and it got out of hand. Shaquille took a swing at one of their players, a Purdue graduate, Brad Miller. I think everyone is lucky that the punch didn't connect, but the NBA watched the tape and slapped Shaq with a 3-game suspension. Well, a few days later we played a home game against Memphis that we needed to win without Shaq. Before the Memphis game, Kobe pulled out the sharpie and wrote "34" on his shoes in solidarity with our suspended team captain, and then Kobe elevated his game to an even higher level. He scored somewhere around 48 or 50 points through 3 quarters, and we led Memphis by 30. I was on the court with him too, and I was trying to be aggressive too and improve my game. I probably took a few bad shots. During a timeout Phil basically told me something along the lines of "Chill out and just get the ball to Kobe." Phil probably wanted to see Kobe get 60 points too, and he was right for that. Kobe finished with just under 60 points and he sat most of the 4th quarter. It was amazing how he just took over that game and had Shaquille's back at the same time.
Washington Wizards 55 point game: It was my last season with the Lakers in 2003 and Michael Jordan was coming to town. Michael Jordan had spent almost his entire career with the Chicago Bulls, and then coming out of retirement he played his two last years for the Washington Wizards. There was so much hype around the game. The game started out with the Wizards running plays for Michael who was knocking down tough shots to begin the game. Then Kobe just completely took over. Kobe scored 40 points and made 8 threes in the first half. Kobe was just so focused and determined. It was like the torch was being passed right there before our eyes from greatness to greatness. Kobe finished the game with 55 points. As I think back on that game, I still remember thinking this was the game where the mantle was passed from Michael to Kobe.
"Read to Achieve" with Eugenia Chow: Early in my NBA career, I was introduced to the NBA's program of "Read to Achieve" of which I am still grateful to be a part. This photo was from 2002 when we did a reading event at Miles Ave Elementary School in the Los Angeles area.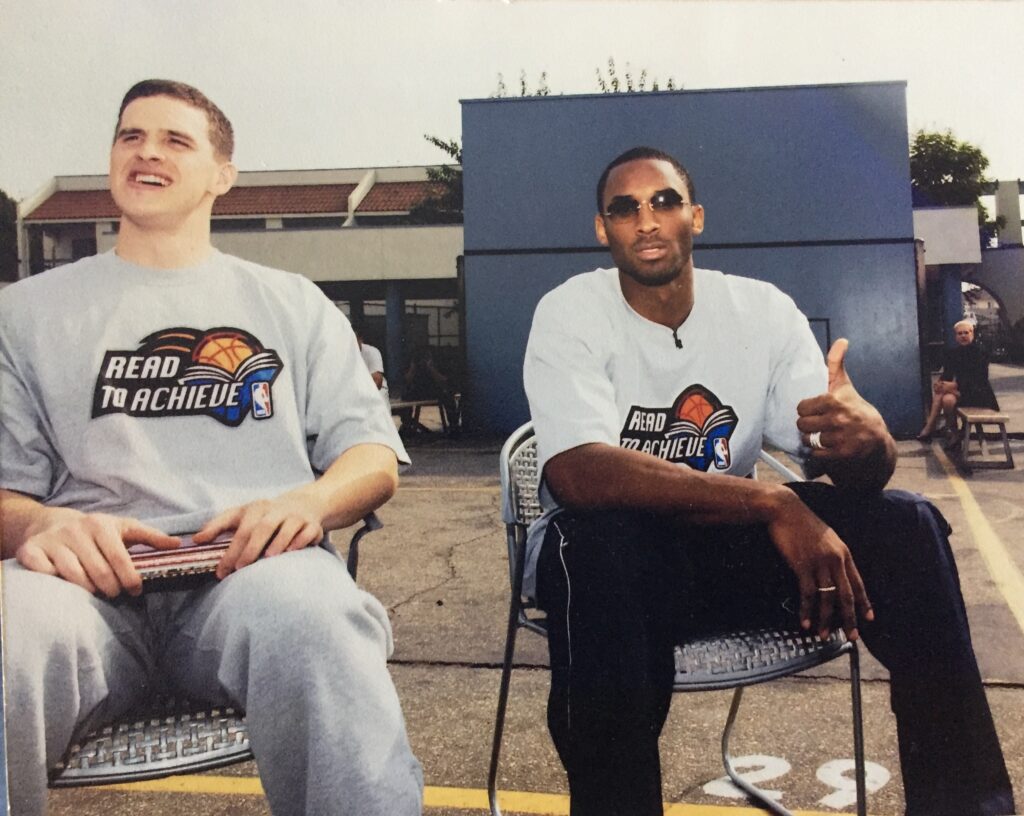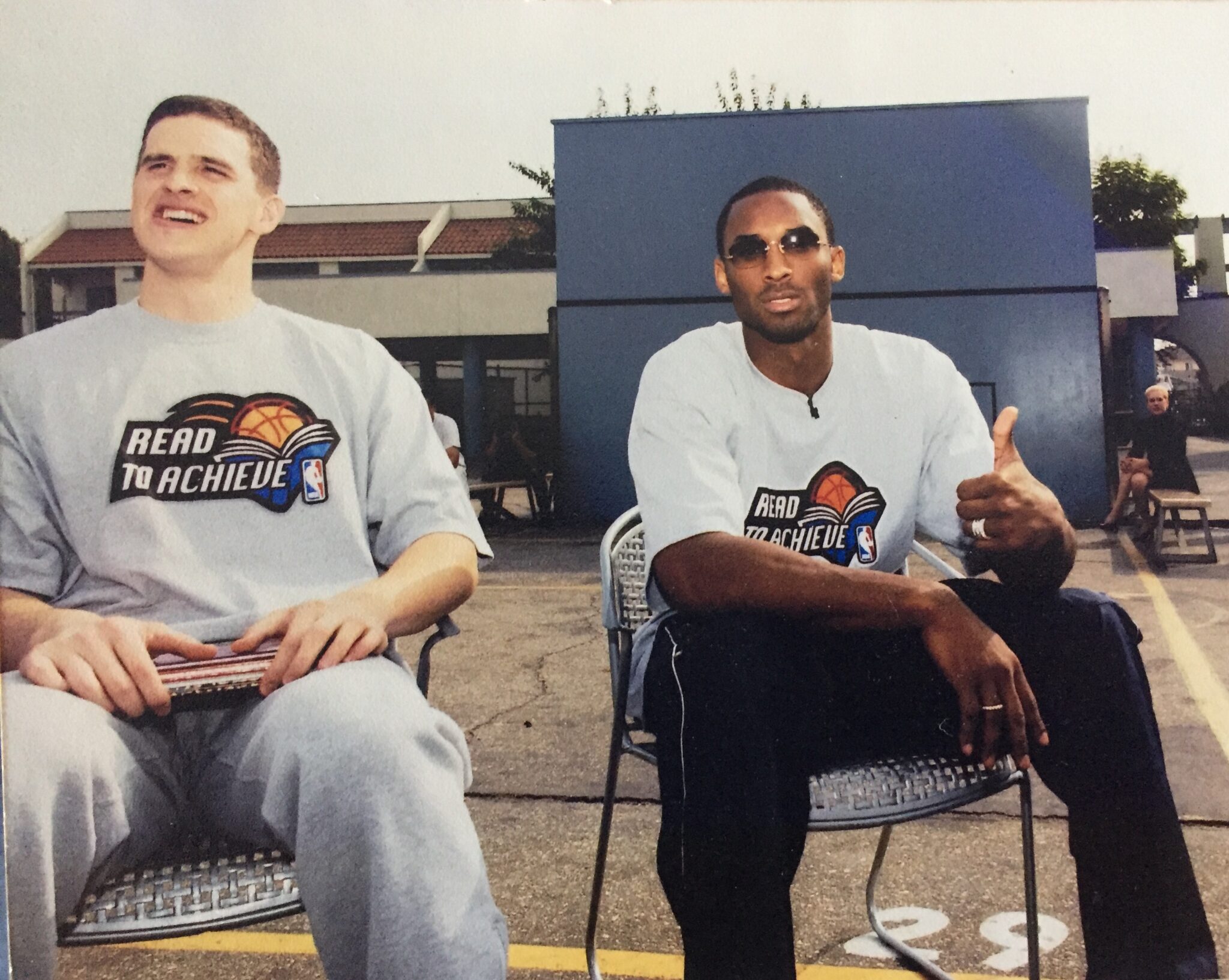 The principal had planned a fire-drill so the students and teachers came outside to the blacktop quickly and in an orderly fashion. Eugenia Chow, (who was the top community relations specialist in the NBA), set everything up so that after the fire drill, we surprised the students with a literacy pep rally and "Read to Achieve" event. Now I only have a vague memory of the event, but Kobe was always outward focused and wanting to help in the community. Years later whether it was helping youth or the homeless situation in Los Angeles, Kobe cared about giving back and he and Vanessa took very seriously their work in the community. (Correction: This photo was from the above referenced event at Miles Ave Elementary, but the date of the event was October 22, 2002) as opposed to the 2001 date that was initially referenced in this post).
Poisoned cheeseburger in Sacramento: We used to always stay in a Marriott hotel in Sacramento right next to the capital building. During the Western Conference Finals in 2002 before game 2, Kobe ordered a cheeseburger from the Hotel in Sacramento. Well, Kobe got food poisoning from the burger, and then was on an IV after the game and possible even before the game (I can't remember). Kobe still had a good game, but he wasn't himself. But Dr. Buss and the Buss family (who I believe are by far the best owners in all of sports), along with Gary Vitti and Mitch Kupchak basically vowed to never stay at that hotel again. What I like about this is simply that upper leadership always had Kobe's back. And in return Kobe had the Lakers back. Who knows what happened with the burger as far as if it was intentional or not, but I can tell you that it was years and years before the Lakers would return to that hotel.
Relationship between Phil and Kobe: Kobe respected Phil. Phil respected Kobe. However, it was a relationship that was always evolving with give and take. Phil Jackson demanded that every player arrive on time to games, flights, and practices. If the Laker charter flight was supposed to leave at a certain time, Phil was ruthless in a good way and he was not afraid to leave behind late players. I witnessed a player being left in Los Angeles before a flight to NYC or Philly. Kobe was never late. But there was one time I can remember involving a bus to shoot-around when Kobe was 30 seconds late. The bus was supposed to leave at 10 am and everyone was there except for Kobe and his security director. Everyone was checking their mobile phone to see what time it was. The clock hit 10 AM and right at the same time all of us (including Phil) could see through the glass windows of the hotel lobby that Kobe was coming with his bodyguard through the hotel lobby. Kobe would get at the bus in 30 seconds. But right as 10 AM hit, Phil yelled at the bus driver. "Get going! Let's go!" I think the bus driver could see Kobe too. The bus driver didn't know what to do. He started out by obeying Phil Jackson and the bus started moving, but then seeing Kobe, the bus driver just hit the breaks and opened the bus door and Kobe and his bodyguard walked onto the bus. Phil was upset because Kobe was late and immediately fined Kobe as Kobe walked past. He was probably upset with the bus driver too for not leaving. Kobe was as calm as a Sunday morning, and seemed almost like nothing had happened. The funny thing is that Kobe did not run or sprint to the bus when the bus began to pull out. He just walked calmly the entire time. This memory will forever be etched in my mind. Again, in my three years of playing with Kobe, he was never late…..except for that one time. But even in the face of the bus leaving, Kobe was the most calm and collected person ever. This translated to the court as well; Kobe was never hurried, never rushed, never flustered. This is part of why there was a deep mutual respect between Kobe and Phil Jackson. Kobe knew that Phil was always going to push Kobe and not give him preferential treatment. In turn Phil knew that he would hold Kobe to the highest standards and to the same standards as the rest of the team. Phil knew that no matter what the situation would be, that Kobe would be calm and in control. That was a relationship of deep trust even though there was pushing on both sides.
Kobe challenged each of us to be the best version of ourself: Kobe pushed me harder than any other teammate that I've ever had. I will be forever grateful for this because by pushing me hard, it showed that he cared. Even though I was a role player, Kobe cared about me being the best role player I could be. He cared about our team being the best it could be. And he cared about the end goal (A World Championship). This is part of what made him great.
I wanted to attend Kobe's celebration of life at the Staples Center over a year ago. It was very important for me personally to be there. My Delta flight was checked in and I was ready to fly out on Monday February 24th 2020 at 6AM in the early morning to attend the service that day. I went to sleep Sunday night packed and ready to leave for LAX and then on to the memorial at the Staples Center. At 2 am on Monday morning, my wife Hannah woke me up. She was going into labor. I cancelled the flight and we went to the hospital right away. At 7 AM that same day our second son came into the world being born on 2/24/2020.
As the basketball world and basketball fans across the world celebrate Kobe's basketball prowess and greatness, I also want to celebrate and commemorate him as one who not only excelled in basketball, but cared about his family deeply and was a beacon of community involvement from the first day he set foot in Los Angeles.